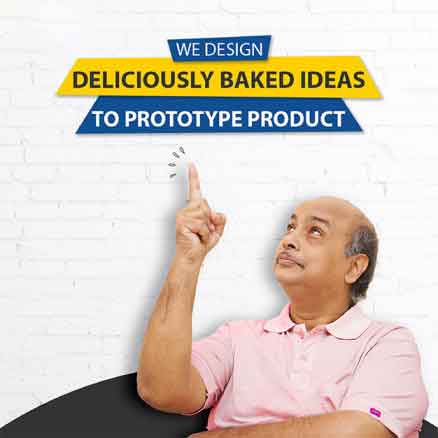 Our Story with Product Design and Development
Compu Drive System was established in the year 1992. Since then, it has seen no decline in its collective zeal. Thriving with a setting pulse, for over three decades now, Compu Drive System has become a household name in the field of Prototype product design and development in India, and abroad. Our cut-edge expertise lies in the field of Mechatronics, and Industrial Automation.
The Founders
Every ship needs a sailor. Compu Drive System is the brain child of Mr. Sandip Golani, the founder and CEO of the same. His dream of successfully anchoring the existence of Compu Drive System in the field of prototype product designing has been successful after several trials. Even after holding a BE in Electronics, and several diplomas Mr Golani still claims the maximum amount of his learning has taken place through in-hand experience with prototyping. A thinker, and a quick decision maker Mr Golani has performed several prototyping endeavours for his clients strewn across India, USA, UK, China, Qatar, and Afghanistan. Mr Sandip Golani, along with the entire team of Compu Drive System has reached the apogee of success in the domains of circuit designing, electronic product designing, mechatronics, and automation. Prototype product design and development is just not his profession, but passion too. Developing, and repairing comes naturally to him. In the rainy days, in the very beginning of Compu Drive System's journey Mr. Golani has been largely supported by his wife Mrs. Tapti Golani. Mrs. Golani herself has completed Bachelors in science, and Post-graduate Diploma in software science. She is now at the helm of conducting affairs regarding the administrative and financial departments of Compu Drive System. A successful working professional, caring mother, and dedicated family person Mrs Golani, setting her own example, is a staunch believer of women empowerment in every section of the society.
The Mission and the Vision of Compu Drive System
There goes a popular African proverb: 'If you want to go fast, go alone. If you want to go far, go together'. Compu drive system exactly believes in the same motto. Our mission is to keep on innovating newer ways in the field of prototyping, and sharpening our own expertise to the maximum level. Compu Drive System is a trustworthy name in developing and repairing Industrial & medical equipment with the help of its on in-house tools and gadgets in mechanical and electronic divisions. Yet, Mr. Sandip and his team is always thirsty. They believe there is no end of learning. Thus, with the passage of time they are coming up with newer ideas, models, and projects of prototyping. No company can sustain for long if it doesn't have a vision. Compu Drive is no different. We believe an innovative mind is different from average minds. They should be given chance all the more. At Compu drive System we help such talents to come in front, and execute their expertise. Students from technological backgrounds come and perform their projects of Masters and PhD with us. Learning is a two-way traffic— they learn from us, and we learn from them. In the future we are broadening such scopes, and also continuously investing on ideas that bring sustainable change in the domain of Prototyping.
Compu Drive System— the one-stop-destination for all your prototype product design and development needs 
Compu Drive System has earned the token of trust of numerous clients because of our sheer expertise, and ethical professionalism. We design our prototype products keeping in mind all the nitty-gritties demanded by clients.The technologies we use are best in class, and are sure to yield maximum result that benefits the users. We have bagged several accolades in our favour. For more information call us , and let us partner with you, for all your product design and development needs.